Pathway® 3G Wheelchair Ramps - Guidelines for Handicap Ramps Access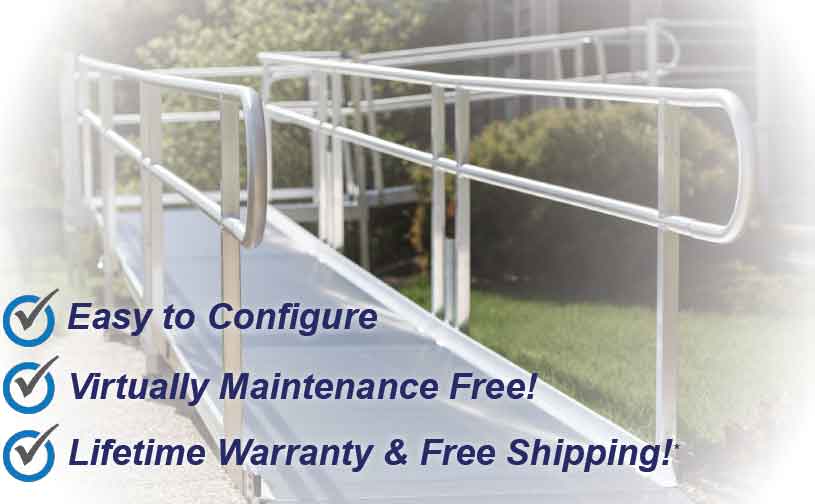 Pathway® Handicap Ramps for Wheelchairs, Scooters & more
EZ-Access Pathway® Wheelchair Ramp System - Easy to install for your handicapped ramp access needs. This modular ramp system is an affordable, versatile solution with ramps, platforms, stairs and gates. The Pathway wheelchair ramps offer handicapped access when needs exceed the range of use for portable wheelchair ramps. Pathway modular ramps are far superior to ordinary modular ramps and old fashioned wooden construction ramps. You won't find a better quality, easier to assemble, handicap ramps for use with virtually any wheelchair, scooter, walker. The Passport Wheelchair Lifts or Elevator is a great alternative to handicap wheelchair ramps, especially in tight spaces.

Install a 24 foot handicap wheelchair ramps system in less than an hour! Our modular handicap ramps system is perfect for temporary or permanent use. No other handicap ramp installs so easily. They are also easy to reconfigure as needed. They are perfect for use with wheelchairs, scooters, walkers and most other handicap mobility equipment. Made in the USA supporting American families. Many other ramps for wheelchairs are made in China and what good is a warranty if you need to send it to China for repair?
EZ-Access Pathway® 3G Wheelchair Ramps - Features & Advantages
Professional Grade Aluminum Handicap Ramps Made in the USA!
Fast and Easy handicapped ramp installation!
Durable Welded Aluminum Construction for a virtually maintenance free handicap ramp system.
Pathway Handicap Ramps are easy to reconfigure & your can take it with you if you move!
2 ramp surfaces and 3 handrail styles to choose from!
1000 lbs. capacity & will not Rot, Rust or Decay.
Fast Free Factory Direct Shipping!
Pathway wheelchair ramps are Guaranteed in stock and ready for Fast, free factory direct shipping.